2010.03.01 Monday
Vancouver 2010 - The Olympic Race
残念ながら、シギーはバンクーバーで思うような結果を残すことができませんでした。
予選1本目でクラッシュ。ここ近年の目標だった金メダルには届きませんでした。
自分の不注意による12月に骨折をしたことで、一時はオリンピックの
出場を断念することも考えた状況でした。
今は少し休んで、次に向けた準備にしたいと考えています。
男子、女子共にウィナーには「おめでとう」とお伝えしたいと思います。
そして、SGライダーもがんばってくれました!
女子銅メダル、マリオン・クライナー
男子銀メダル、ベンジャミン・カール
さらに、多くのライダーが決勝トーナメントに残ってくれました。
最後に、
オリンピックを影で支えるスタッフのみなさん、特にボランティアのみなさんの
働きには頭が下がる思いでした。
彼らに大きな金メダルを捧げるとともに、そこに本来あるべきオリンピック
精神を垣間見たように思います。
シギー
PS
ソチには戻ってくるよ!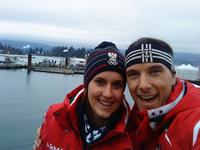 My Olympic Race in Vancouver was not what I expected it to be. I crashed in the first Qualification Run and so my dream of winning a medal was over.
After breaking my ankle in December I tried to do my best to be in good shape but an unnecessary mistake made me fall hard.
Now I will take my time off to heal my ankle to make sure it will be good for any sports and especially for snowboarding in the future.
Congratulations to the men's and women's podiums:
Jasey Jay Anderson wins the Gold, Silver wins Benjamin Karl (on SGsnowboards - yeah!) and Mathieu Bozzetto wins Bronze.
Nicolien Sauerbreij wins the Gold, Ekaterina Iljuhina Silver and Marion Kreiner (on SGsnowboards - yeah!) wins Bronze.
At the end I want to say one more thing:
A BIG BIG GOLD MEDAL TO ALL THE PEOPLE WORKING FOR THE 2010 OLYMPIC GAMES, ESPECIALLY ALL THE VOLUNTEERS! YOU HAVE DONE AN AMAZING JOB AND YOU TRUELY LIVE THE OLYMPIC SPIRIT! THANKS!
See you,
Sigi
P.S.: I will be back ;-)